Dslmodem > Thomson > TG585 ADSL Geek
Thomson TG585 (273/08/016) information: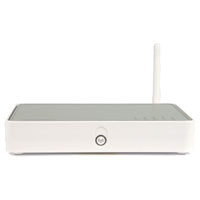 Modem/Router Features
Firewall
Wireless Compatible
ADSL2/2+ Compatible
ADSL LAN Or Switch
How to login
Go to http://192.168.1.254/ in your web browser and it should prompt you to login.
The default username is Administrator
The default password is admin
How to add PPPoA connection
Click on Internet (under Broadband Connection)
If it's already connected, click Disconnect
Enter your ADSL username and password
When you see the "Disconnect" button and an "IP address " has been assigned, your modem has been configured.
How to check ADSL status
Click on Broadband connection
The speeds should be shown under DSL Connection
---
NZ Telepermit Number:
273/08/016
NZ Telepermit Holder:
Thomson Grass Valley Pty Ltd.
Page Views:
2676
Thomson - ADSLGeek comments:
Thomson TG585 - ADSLGeek Comments

ADSLGeek has not yet commented on this modem.

Thomson TG585 - Customer Comments:

You can also access the TG585 via http://dsldevice.lan

If the device doesn't have internet connection, then your site, simply redirects to http://dsldevice.lan also.

If anyone has a spare Router, I would love to get a router together for this.

This router is currently (as at 2010) the free router given away from Telecom Retail.

They are solid routers from what I have seen, and seem to hold a higher synch and be more stable when compared to other routers. This is in the NZ / Alcatel 7302 ISAM environments, so keen to hear of other people's opinions.

Product Warnings

BOOT MODE / FALSE "BLOWN" MODEM: Depressing the reset button while ďturning onĒ or holding the reset button through the power reset (depressing longer than 7 secís) will put a Thomson the Router/Gateway into Bootloader mode.

(I have also been advised that bootloader mode can be evoked by repeatedly tuning the router on and off without allowing router to fully complete itís bootup check. Donít quote me on this, but I think the router deems the RAM firmware to be corrupt and goes into bootload mode flushing the RAM, and causing a full reload from Backup memory) I have asked for more information, re: this point.

To recover from Bootloader mode, please turn gateway off and allow to fully initialise before proceeding. Please be patient - initialising from Bootloader mode does take approx 5min as it is required to reload firmware from backup memory into both Primary and Secondary RAM locations before initializing.

Power LED Status
-----------------------
COLOR STATE MEANING
Green Solid on = Power on, normal operation
Red Solid on = Power on? self-test failed, indicating device malfunction
Orange Blinking = Bootloader active (upgrade mode)
Off = Power off

Note - do not mistake Orange for Red..


Thomson TG585 V7 ADSL2+ Wireless Gateway